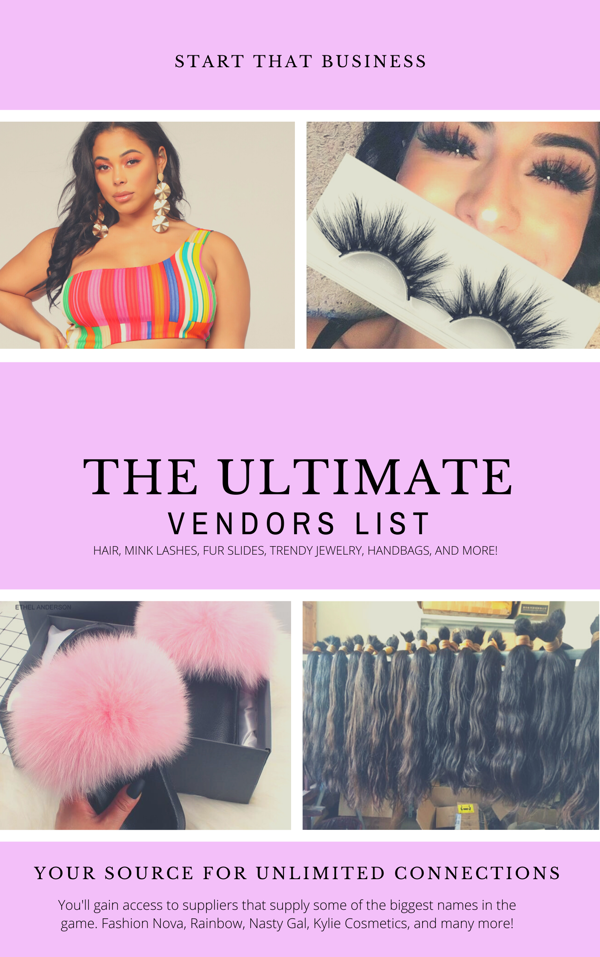 Make A 2023 💵Move!! Whether you own or are starting a business, The Ultimate Vendors List is your direct access to an exclusive Vendor/Supplier List utilized by top brands and social media influencers alike! All of the research and inventory trial and error has been done for you! Build relations with quality vendors, connect and sell what sells!
*Invest & take your business to the next level with highly desired and unique inventory pieces!
* From quality hair & lashes to unique clothing, footwear, handbags, jewelry & "Best Seller" accessories
The Ultimate Vendors List provides valuable information and direct contact details to get your business in touch, to start sourcing with the best vendors that supply 2023's top fashion, cosmetics and accessory brands both on and offline!
The Ultimate Vendors List Is Your Immediate Access/ Printable Ebook Vendor List Source Directory To Keep For Life! A Legit Priceless eBook Resource For Unlimited Connections, Growth & Sales For Your Business. The Inventory Possibilities Are Endless!
Waiting Will Almost Always Cost You More! Invest In Yourself & Your Future.
ORDER NOW‼️
♨️USE CODE: BAWSEUP50 @ Checkout To Save 50% ON THIS LIMITED TIME DISCOUNTED OFFER‼️